It was mere accident that I saw a small hand – written sign: "the Mpelleiko", an old stone – made house with marvelous and immense view. Its name derives from its owner whose name was Mpellas.
No one suspects the miraculous secret hostel, right above the central road of Stemnitsa, only 300 meters away. It is fascinating place of divine beauty, a real dreamland of human hand shaking. Its source: man's intelligent poetic instinct.
Around and in front of it the immense horizons flow with musical harmony. Across it, the Lykaion Mountain. In the distance to the left: pet mountain Taygetos and to the right the Ionian Sea with Zakynthos in the back.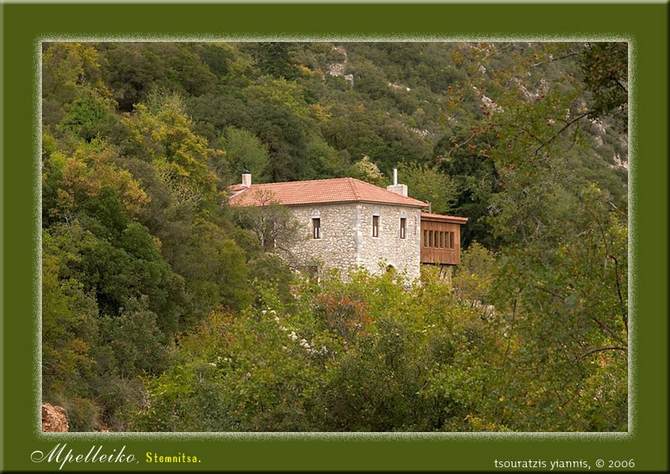 All the spectacles mirror poetic prayers of prudence and are bathed in secret whispers of the soul. A step further up, you travel with the clouds holding under your arms the moon of a night full of stars. An endless dream!
Every room has its fire place for winter time. Grandmother's hand – made neat sheets and the colored blankets offer a genuinely archaic esthetic movement.
All windows look at the open horizons of unrivalled landscape and the fir trees stand proud in their epic loneliness. For breakfast, home – made products with tastes, that emanate from the memories of tradition. As for the cost of the room, it is reasonable, showing respect for the visitor.
One night at the Mpelleiko, and you have the gods in your feet, fellow – travelers with the rays of the sun and the deep voices of the Mainalon forest.
One night at the Mpelleiko is like one night and your whole life in earthly heavens, with feul the beauty built with few words inside and outside your heart!
The Mpelleiko is the crown of Stemnitsa. The genuine and hearty hospitality of the enterprising owner, Mrs. Nena Gkrintzia, graduate of the School of Geology, is an important capital. The remodeling of the hostel was work of the inspired craftsman and business partner Mr. Ntinos Sarakiniotis.
The epic – lyric travel from the path – ways of Mainalon to Mpelleiko constitutes a conquest of the innocent sight and the soul's fervent dream.
Online room reservation